Timber Spruce is a secondary character. He is voiced by Brain Doe.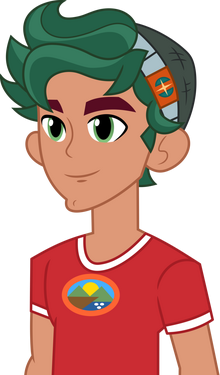 Characteristics: tall, slender, green eyes, green hair, handsome, kind, sociable, selfish, intelligent, rational, pragmatic, loyal, witty
Real age: 1 real year
Profession: Employee in a touristic agency
Relations: Gloriosa Daisy (sister); Sci-Twi (girlfriend)
Comes from: Legend of Everfree
Nationality: American
Religion: Christian
Race: Traditionally-animated
Subrace: Positive character\
trivia:
He is the younger sibling.
relationships:
his sister: The two often disagree and argue, but they love each other.
Sci-Twi: For him she is among the few people he can reveal his true self to. He respects her and like to show off infront of her.
Ad blocker interference detected!
Wikia is a free-to-use site that makes money from advertising. We have a modified experience for viewers using ad blockers

Wikia is not accessible if you've made further modifications. Remove the custom ad blocker rule(s) and the page will load as expected.