The Horned king is a recurring antagonist. He is voiced by John Hurt.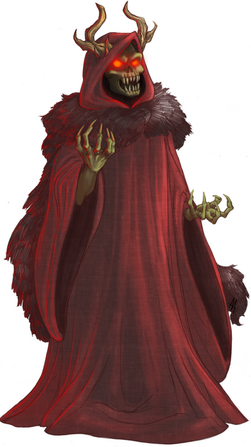 He is the ruler of all antagonists.
About the character
Edit
Characteristics: tall, slender, red robe, brown cloak, green skin, red eyes, ugly, evil, usually calm, ruthless, merciless, selfish, cruel, immoral
Real age: 31 real years
Species: Monster
Nationality: American
Religion: Satanist
Race: Traditionally-animated
Subrace: Antagonist
Comes from: The black cauldron
Profession: King
Relationships: The horned king is respected by his subjects and feared by his enemies. Despite the respect and loyalty his subjects show to him, he does not show them any approval and rarely respects them. He is also shown to have a rivalry with king Fergus.
Ad blocker interference detected!
Wikia is a free-to-use site that makes money from advertising. We have a modified experience for viewers using ad blockers

Wikia is not accessible if you've made further modifications. Remove the custom ad blocker rule(s) and the page will load as expected.