The Beast is a major character. He is voiced by Robby Benson.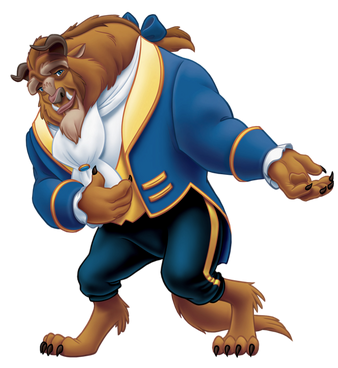 Characteristics: tall, muscular, brown fur, blue eyes, handsome, kind, loving, loyal, glutton, shy, clumsy
Animated age: 21 years old
Real age: 26 years
Species: Monster
Nationality: American
Religion: Christian
Relations: Belle (wife); Flynn, Milo, Delbert Doppler (best friends)
Comes from: Beauty and the Beast
Race: Traditionally-animated
Subrace: Positive character
Profession: Owner of the gallery
Relationships:
Belle: He strongly loves his wife and puts her happiness above everything else, though they do argue when something is not right.
Flynn, Milo, Delbert, Lumiere, Cogsworth and mrs. Potts: He often seeks support and advice from them, when he feel the need to and seem to care for them.
Trivia:
Appearantly his real name is actually "Adam".
His body is a mixture of a few animals- wolf, bear, lion and bison.
Ad blocker interference detected!
Wikia is a free-to-use site that makes money from advertising. We have a modified experience for viewers using ad blockers

Wikia is not accessible if you've made further modifications. Remove the custom ad blocker rule(s) and the page will load as expected.