Taiga Aisaka is a major character. She is voiced by Cassandra Lee Morris.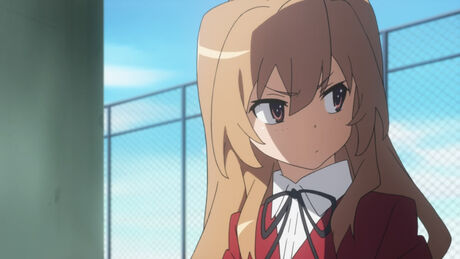 Characteristics: short, slender, brown hair, brown eyes, cute, beautiful, aggressive, short-tempered, clumsy, stubborn, nice, cynical, sarcastic
Animated age: 17 toon years
Real age: 9 real years
Species: Human
Profession: Waitress in the cafe
Comes from: Toradora
Nationality: Japanese
Relations: Ryuuji (boyfriend), Yoko, Ryuko and Mikasa (best friends)
Religion: Shinto
Relationships:
Ryuuji: Despite her abrasive behaviour towards him from time to time, Taiga still loves him and gets jealous of him very easily when an other woman shows interset in him.
Yoko, Ryuko and Mikasa: She gets along with them since they have similar personalities and tendencies.
Race: Traditionally-animated
Subrace: Positive character
Trivia:
Ad blocker interference detected!
Wikia is a free-to-use site that makes money from advertising. We have a modified experience for viewers using ad blockers

Wikia is not accessible if you've made further modifications. Remove the custom ad blocker rule(s) and the page will load as expected.