Sunset Shimmer is a protagonist. She is voiced by Rebecca Shoichet.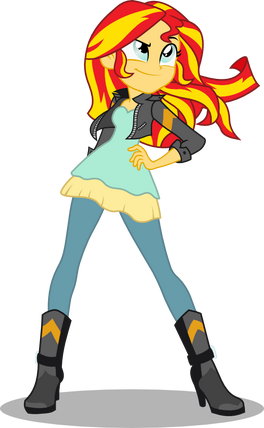 About the character
Edit
Characteristics: tall, slender, red hair with blonde stripes, turquoise eyes, blue ejans, black boots, black jacket, turquoise blouse, beautiful, intelligent, kind, loyal, selfless, friendly, polite
Animated age: unknown
Real age: 3 real years
Nationality: American
Religion: Christian
Profession: Musician, guitarist
Comes from: the My little pony: Equestria girls films
Race: Traditionally-animated
Relationships- She was loyal to the antagonists, but when she escaped from them, she met the Movietownians and became a great friend of theirs.
Ad blocker interference detected!
Wikia is a free-to-use site that makes money from advertising. We have a modified experience for viewers using ad blockers

Wikia is not accessible if you've made further modifications. Remove the custom ad blocker rule(s) and the page will load as expected.