Ryuuji Takasu is a major character. He is voiced by Erik Scott Kimerer.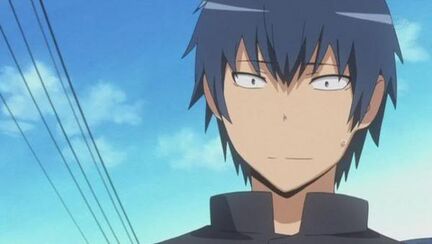 characteristics: tall, slender, black eyes, blue hair, handsome, kind, polite, well-mannered, respinsible, smart, short-tempered, loyal, selfless
Animated age: 17 toon years
Real age: 9 real years
Species: Human
Relations: Taiga (girlfriend), Yasuko (mother), Kamina and Eren (best friends)
Comes from: Toradora
Nationality: Japanese
Religion: Shinto
Profession: Employee in a cafe
Race: Traditionally-animated
Subrace: Positive character
Relationship:
Taiga: He is very loyal to his girlfriend. Ryuuji would do anyhting for her and always thinks of her safety and happiness.
Yasuko: Ryuuji does not seem to be very close with his mother. He prefers to refer to her with her name, rather than with "mother", but he appears to actually love her.
Kamina and Eren: They are his best friends and spends much of his free time with them.
Trivia:
He is a bit obsessed of hygiene.
He has the so called "sanpaku eyes".
Ad blocker interference detected!
Wikia is a free-to-use site that makes money from advertising. We have a modified experience for viewers using ad blockers

Wikia is not accessible if you've made further modifications. Remove the custom ad blocker rule(s) and the page will load as expected.