Queen Tara is a protagonist. She is voiced by Beyonce.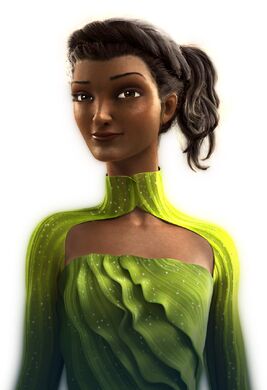 She is the queen of Movietown and of the rulers of Pais de Animation.
About the character
Edit
Characteristics: tall, slender, green dress, brown hair, white shoes, brown eyes, beautiful, kind, wise, optimistic, selfless, loving, brave, gentle, friendly, upbeat, down-to-earth, friendly, witty
Animated age: unknown
Real age: 4 real years old
Relationships:
Fun facts:
Her name means "queen".
She has the power to control plants and to cure.
She is considered to be the most popular among the rulers of the Cartoon kingdom.
She is an unsurprisingly good singer.
Theme song: Rise up
Comes from: Epic
Species: Human/Leafman
Ad blocker interference detected!
Wikia is a free-to-use site that makes money from advertising. We have a modified experience for viewers using ad blockers

Wikia is not accessible if you've made further modifications. Remove the custom ad blocker rule(s) and the page will load as expected.