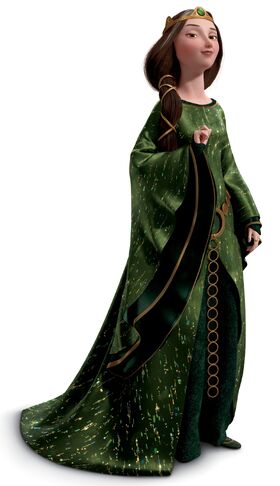 Queen Elinor is a major character. She is voiced by Emma Thompson and has a Scottish accent.
Characteristics: tall, slender, long brown hair with white stripes, golden crown, brown eyes, green dress, beautiful, elegant, posh, wise, intelligent
Real age: 5 real years
Family: Merida (daughter), Harris, Hubert and Hamish (sons), king Fergus (husband)
influence on other toons: She is very respected among the citizens. Everybody in town really rely on her to protect the kindom and always to find the best siolution. She even gets more respect, than her husband.
nationality: American
religion: Christian
comes from: Brave
race: computer-animated
subrace: positive character
Fun facts:
Her name means ''shining bright".
Relationsahips
Edit
With her family- She loves deeply her family.
With her subjects- Elinor is very loyal to her subjects.
Ad blocker interference detected!
Wikia is a free-to-use site that makes money from advertising. We have a modified experience for viewers using ad blockers

Wikia is not accessible if you've made further modifications. Remove the custom ad blocker rule(s) and the page will load as expected.