Pinkie Pie
, but more often called just
Pinkie
, is a protagonist. She is voiced by Andrea Libman.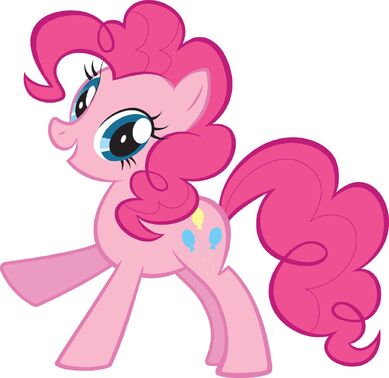 She is the craziest animated character in Movietown and the president of the Crazy club in El Filmjefo. She also works as an event manager.
About the character
Edit
Characteristics: slender, pink mane and tail, blue eyes, pink fur, beautiful, friendly, talkative, crazy, intelligent, comedic, organized, at times brash
Animated age: unknown
Real age: 6 real years
Family: Maud Pie (sister), Gummy (pet)
Full name: Pinkamena Diane Pie
Catchphrase: "Okie-dokie-lokie!''
Fun facts: She has the ability to predict future troubles, like falling objects for example. She calls this ability her "Pinkie sense". She also has a big collection of drinking straws.
Relationships
Edit
With the Movietownians- She is a great friend to them.
With the villains- She doesn't like the antagonists, but she often makes jokes of them.
With Pinky- Pinky is Pinkie Pie's best friend from El Filmjefo and she has a great relationship with him.
Ad blocker interference detected!
Wikia is a free-to-use site that makes money from advertising. We have a modified experience for viewers using ad blockers

Wikia is not accessible if you've made further modifications. Remove the custom ad blocker rule(s) and the page will load as expected.