Pinkie Pie
, but more often called just
Pinkie
, is a major character. She is voiced by Andrea Libman.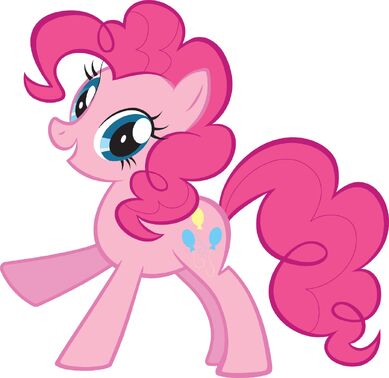 About the character
Edit
Characteristics: slender, pink mane and tail, blue eyes, pink fur, beautiful, friendly, talkative, crazy, intelligent, comedic, organized, at times brash
Real age: 8 real years
Family: Maud Pie (sister), Gummy (pet)
Full name: Pinkamena Diane Pie
Catchphrase: "Okie-dokie-lokie!''
race: traditionally-animated
nationality: American
religion: Christian
species: pony
profession: event manager
influence on other toons: She knows pretty much everyone in town, due to her great memory and desire to make everybody her friends. Pinkie has a reputation of a loud and energetic pony, whom you can always count on to make a great party.
Fun facts:
She has the ability to predict future troubles, like falling objects for example.
She calls this ability her "Pinkie sense".
She also has a big collection of drinking straws.
She is the craziest animated character in Movietown.
She is the president of the Crazy club in El Filmjefo.
She shares her actress with Fluttershy and Zipzee .
Relationships
Edit
With Maud: She strongly respects and dmires her sister, despite the two being complete opposites.
With Pinky- Pinky is Pinkie Pie's best friend from El Filmjefo and she has a great relationship with him.
with Gummy: She cares strongly about her pet.