Peri and Pearl Serpentine are secondary characters. Peri is voiced by Rachel Staman and Pearl is voiced by  Cherami Leigh.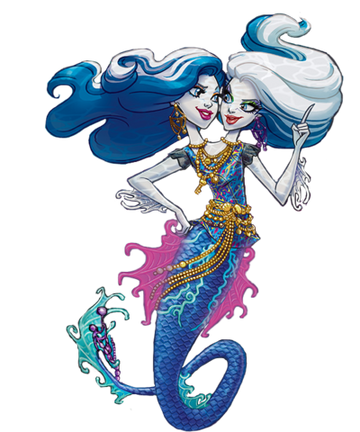 Characteristics: Peri- white skin, green eyes, blue hair with white stripes, beautiful, kind, gentle, helpful, compassionate, sweet; Pearl- white skin, green eyes, white hair with blue stripes, beautiful, brash, naive, short-tempered, sneaky
Animated age: 16 animated years
Real age: 1 real year
Species: Mermaids/ Sea monsters
Profession: Assistants of Buster Moon
Come from: the Monster high franchise
Race: Computer-animated
Subrace: Positive characters
Nationalities: Americans
Religions: Christians
Ad blocker interference detected!
Wikia is a free-to-use site that makes money from advertising. We have a modified experience for viewers using ad blockers

Wikia is not accessible if you've made further modifications. Remove the custom ad blocker rule(s) and the page will load as expected.