Paula Mezga is a secondary character. In the show she is voiced by Jennifer Hale.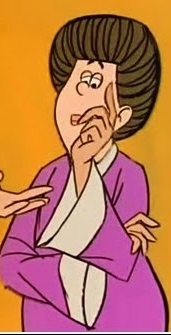 characteristics: plump, brown hair, black eyes, beautiful, loud, short-tempered, demanding, impulsive, headstrong
Real age: 48 real years
Species: Human
Nationality: Hungarian
Religion: Christian
Comes from: The Mezga family
Relations: Geza (husband), Kriszta and Aladar (children), Bloki and Maffia (pets), Linda, Leela, Marge, Yasuko (best friends)
Race: Traditionally-animated
Profession: Employee in the spa
Subrace: positive character
Ad blocker interference detected!
Wikia is a free-to-use site that makes money from advertising. We have a modified experience for viewers using ad blockers

Wikia is not accessible if you've made further modifications. Remove the custom ad blocker rule(s) and the page will load as expected.