Misa Amane is an antagonist. She is voiced by Shannon Chan-Kent.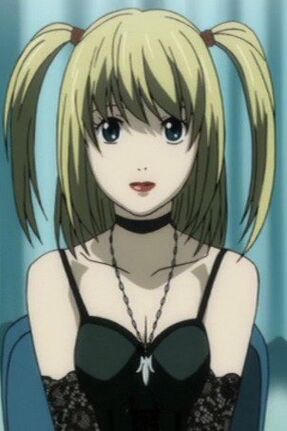 About the character
Edit
Characteristics: slender, curvy, blonde hair, brown eyes, beautiful, cheerful, sadistic, cruel, friendly, optimistic, devoted, loyal
Real age: 10 real years
Species: Human
Race: Traditionally-animated
Subrace: Antagonist/Negative character
Comes from: Death note
Nationality: Japanese
Religion: Shinto
Relations: Light Yagami (lover)
Trivia:
She has the "Shinigami eyes"- the ability to see the real name and the day of death of a person.
She lives in Antagonistan for the same reasons as Light.
She shares her original actress Aya Hirano with Suzumiya.
She shares her English actress with Silver spoon and the Biskit sisters.
Ad blocker interference detected!
Wikia is a free-to-use site that makes money from advertising. We have a modified experience for viewers using ad blockers

Wikia is not accessible if you've made further modifications. Remove the custom ad blocker rule(s) and the page will load as expected.