Milo Thatch is a major character. He is voiced by Michael J. Fox.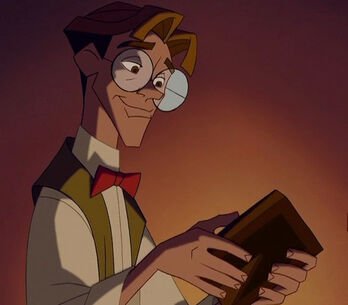 About the character
Edit
Characteristics: slender, tall, brown hair, green-baige outfit, brown eyes, handsome, kind, intelligent, enthusiastic, selfless,
Animated age: 32 years old
Real age: 15 real year old
Species: Human
Profession: Scientist
Relations: Kida Nedakh (wife)
Relationships:
Kida: He truly loves his wife and always supports her.
dr. Delbert Doppler: They have strong respect towards each other, due to being collagues and also best friends.
the rest of the scientists: He respects them as collagues.
Comes from: Atlantis: The lost empire
Race: Traditionally-animated
Subrace: Positive character
Nationality: American
Religion: Christian
Full name: Milo James Thatch
Ad blocker interference detected!
Wikia is a free-to-use site that makes money from advertising. We have a modified experience for viewers using ad blockers

Wikia is not accessible if you've made further modifications. Remove the custom ad blocker rule(s) and the page will load as expected.