Marisol Coxi is a recurring character. She is voiced by Karen Strassman and has a Spanish accent.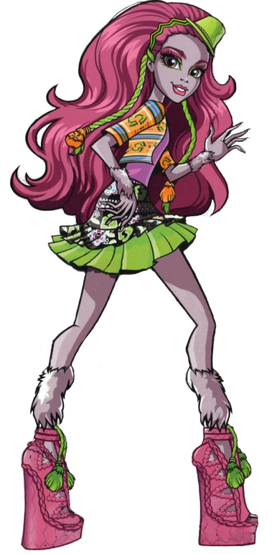 About the character
Edit
Characteristics: tall, slender, pink hair, green hat, pink shoes, brown eyes, brown fur, pink shirt, orange vest, green-black skirt, beautiful, kind, friendly, energetic, optimistic, adventurous
Animated age: 17 animated years old
Real age: 1 real year old
Species: Sasquatch
Family: Abbey Bominable (cousin)
Nicknames: She is sometimes called "Mari" by her cousin.
Fun facts: Her name means "of the sea".
Profession: Waitress at the Chinese dragon
Race: Traditionally-animated
Comes from: Monster high
Religion: Christian
Nationality: American
Relationships- She loves her cousin and her friends and has a friendly relationship with her boss.
Ad blocker interference detected!
Wikia is a free-to-use site that makes money from advertising. We have a modified experience for viewers using ad blockers

Wikia is not accessible if you've made further modifications. Remove the custom ad blocker rule(s) and the page will load as expected.