Maria Posada is a major character. She is voiced by Zoe Saldana.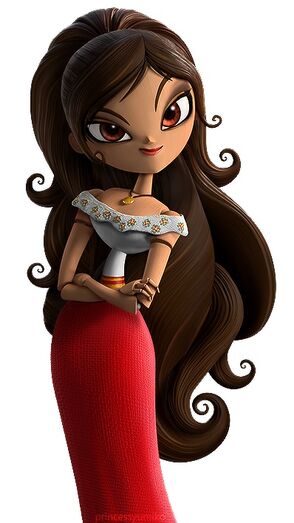 About the character
Edit
Characteristics: tall, slender, brown hair, brown eyes, red-white dress, black boots, golden necklace, beautiful, kind, fearless, loving, smart, sarcastic
Real age: 3 real years old
Family: Manolo Sanchez (husband), Chuy (pet)
Catchphrase: "Is that so?"
Fun facts:
Her favourite color is red.
She really hates any form of sexism.
Her name means "wished-for child", "beloved", "love" and "star of the sea".
She loves reading books in her free time.
She also enjoys music and art.
She shares her actress with Celaeno.
Full name: Maria Gabriela Posada-Sanchez 
Profession: Works in an orphanage
relationships:
Manolo: She is very loving, supportive and loyal to her husband.
the children in the orphanage: She is very nice and supportive towards them. Maria clearly cares about them and never lets them to feel unconfident.