Louise Belcher is a major character. She is voiced by Kristen Schaal.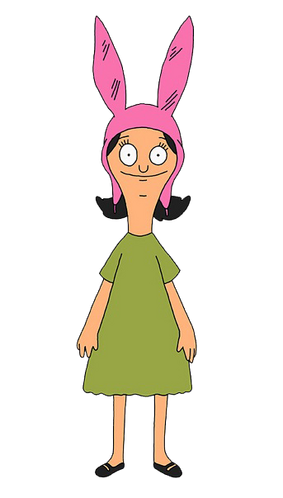 About the character
Edit
Characteristics: slender, green dress, pink hat, black hair, black eyes, beautiful, mischievous, energetic, smart, cunning, aggressive
Animated age: 9 years
Real age: 5 real years
nationality: American
Religion: Christian
Comes from: Bob's burgers
Species: Human
Profession: Pupil
Family: Bob Belcher (father), Linda Belcher (mother), Tina Belcher (sister), Gene Belcher (brother)
trivia:
She is the youngest of the Belcher siblings.
relationships:
her parents: She does not have a very healthy relationship with her parents, since she does not respect them much. She also seems to prefer her father. Despite this she does care for them.
Gene and Tina: Most of the time Louise manipulates, bosses around and mocks her siblings, but she does love them.
Ad blocker interference detected!
Wikia is a free-to-use site that makes money from advertising. We have a modified experience for viewers using ad blockers

Wikia is not accessible if you've made further modifications. Remove the custom ad blocker rule(s) and the page will load as expected.