Lance is a major character. He is voiced by Kevin Thoms.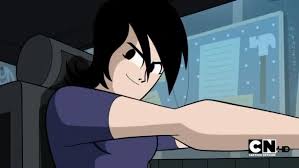 Characteristics: slender, broad-shouldered, muscular, black hair, pale skin, black eyes, handsome, protective, loyal, devoted to his job, athletic, paranoid, snarky, stubborn, introverted, kind, intelligent, persistent, selfless
Real age: 7 real years
Species: alien
Profession: security guard
Nationality: American
Religion: Christian
Comes from: Sym-bionic titan
Race: Traidtionally-animated
Subrace: Positive character
relationships:
Kyo: The two seem to get along as collagues, but their relationship is only professional.
trivia:
He is shown to be a skilled guitarist.

He is a fan of emo rock groups, such as Dashboard confessional, Jimmy eat world, Brand new and Jawbreaker.

He prefers to sleep in his underwear, instead in pajamas.
Ad blocker interference detected!
Wikia is a free-to-use site that makes money from advertising. We have a modified experience for viewers using ad blockers

Wikia is not accessible if you've made further modifications. Remove the custom ad blocker rule(s) and the page will load as expected.