Hunter is a major character. He is voiced by Kelsey Grammer and has a Mid-Atlantic accent.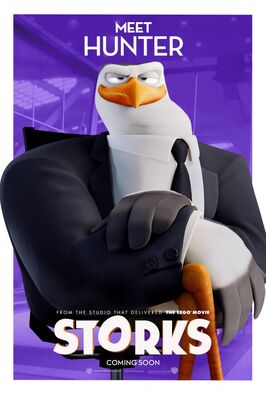 About the character
Edit
Characteristics: white and black feathers, blue eyes, orange beak, black coat, white shirt, handsome, vain, selfish, strict, narcissistic, wisecracking, stubborn, comedic
Real age: 1 real year
Species: White stork
Profession: Majordomo
Comes from: Storks
Race: Computer-animated
Subrace: Negative character
Nationality: American
Religion: Christian
influence on other toons: Due to his rude and arrogant behaviour, Hunter is not very popular among his employees. Pretty much everyone in town claim that they cannot stand him, but they still listen to him, since he is the majordomo. Hunter has a habbit of threating them that he will fire them, if they refuse doing something.
Relationships:
queen Tara: Due to being the first toon who actually showed him some kindness after the abuse he got from other antagonists Hunter is very loyal to the queen. He sincerely respects her and is always trying to impress her.
Death the Kid: He and Kid do not like each other very much. He treats the boy as nothing more than a child or a butler and Kid usually responds him with sarcasm. Despite this they do not really hate each other. Deep down he is envious of Kid, because of his good looks and popularity among other toons, especially women.
Toffee: Due to having rivalry with each other Hunter really despises Toffee. The two are always trying to prove to each other who is the better majordomo and they both show low opinion of the other.
Fear: Hunter usally treats his assistant with much annoyance and abuse (both emotional and verbal). Always yelling at him, always telling him what to do. Though there are moments when Hunter actually treats Fear as his only friend and ally.
Randall: He shows surprisingly much respect and understanding towards Randall, since they are both reformed antagonists. Though they have a lot of moments of mocking and disagreement.
Fun facts:
Coincidentally his favourite show is "Frasier".
Queen Tara strictly forbid him to be cruel to anybody and that's the reason (at least in other cartoons' minds) why he wants to become close to his employees from time to time.
Hunter is also a skilled singer.
His relationship with Death the Kid is actually inspired by the relationship between the characters Niles and C.C. Babcock from the sitcom "The nanny".
He claims that he does not like teenagers and sometimes even immigrants.
Ad blocker interference detected!
Wikia is a free-to-use site that makes money from advertising. We have a modified experience for viewers using ad blockers

Wikia is not accessible if you've made further modifications. Remove the custom ad blocker rule(s) and the page will load as expected.