Harris, Hubert and Hamish are recurring characters.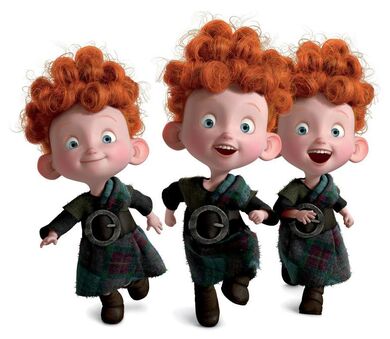 About the characters
Edit
Characteristics: All of them- red hair, blue eyes, brown boots, green clothes, handsome, cute, playful, smart, silent
Animated age: unknown
Real age: 4 real years
Family: Queen Elinor (mother), Merida (sister), king Fergus (father), Angus (pet)
Fun facts: Their names mean:Harris- "son of Harry", Hubert- "bright intellect" and Hamish- "supplanter".
Relationships
Edit
With their family- They have a good relationship with their family.
With the citizens of Filmville- Actually they have good relations with the citizens, despite that they annoy them with their playful and troublemaking nature.
Ad blocker interference detected!
Wikia is a free-to-use site that makes money from advertising. We have a modified experience for viewers using ad blockers

Wikia is not accessible if you've made further modifications. Remove the custom ad blocker rule(s) and the page will load as expected.