Harris, Hubert and Hamish are secondary characters.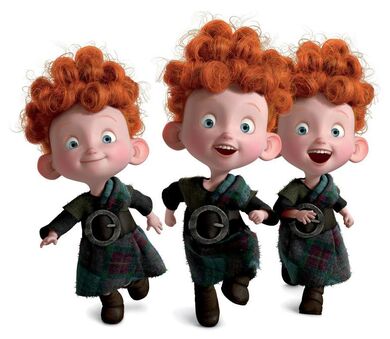 About the characters
Edit
Characteristics: All of them- red hair, blue eyes, brown boots, green clothes, handsome, cute, playful, smart, silent
Animated age: unknown
Real age: 4 real years
Family: Queen Elinor (mother), Merida (sister), king Fergus (father),
Fun facts: Their names mean:Harris- "son of Harry", Hubert- "bright intellect" and Hamish- "supplanter".
Relationships
Edit
With their family- They have a good relationship with their family, though they respect their mother much more than their father. They really love their big sister.
With Princess: She is their official babysitter and most of the time they seem to respect her, but that does not stop them from doing whatever they want from time to time.
Ad blocker interference detected!
Wikia is a free-to-use site that makes money from advertising. We have a modified experience for viewers using ad blockers

Wikia is not accessible if you've made further modifications. Remove the custom ad blocker rule(s) and the page will load as expected.