Greasy is a recurring character. He is voiced by Charles Fleischer and has a Spanish accent.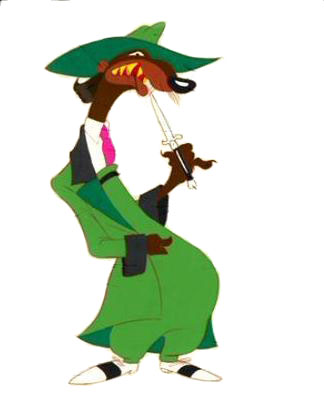 About the character
Edit
Characteristics: slender, green suit, green hat, white shoes, black eyes, brown fur, black hair, white shirt, pink necktie, handsome, pervert, bloodthirsty, loyal
Real age: 28 real years old
Species: Weasel
Relations: Smarty, Wheezy, Stupid, Psycho (best friends); Cass, Tadashi, Lucy, Anna, Kristoff (close friends)
Relationships:
Smarty: Most of the time he shows respect towards his boss and often enjoyes his witty remarks. Although he still would laugh at him if he finds a chance.
the rest of the Toon patrol: He is very close to them, since he has known them ever since he was created. Greasy trust them and treats them with much understanding, at least usually.
Cass: She is one of the wasels' best friends and he treats her with respect and understanding, though he still has moments when he shows lust towards her.
Tadashi: He shows much tolerance and friendly attitude towards the boy.
Anna and Kristoff: He is usually friendly to both of them.
Fun facts:
He speaks Spanish.
Running gag: Starts flirting with pretty much every woman he sees.