Flurry heart is a recurring character. She is voiced by Tabitha St. Germain.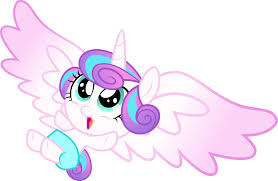 About the character
Edit
Characteristics: small, slender, pink fur, blue eyes, blue diaper, purple mane with blue stripes, beautiful, cute, playful, impulsive, upbeat, cheerful
Real age: 1 year
Species: Winged unicorn
Family: Shining armor (father), Cadance (mother), Twilight Sparkle (aunt), Celestia and Luna (great-aunts)
Religion: Christian
Type cartoon character: Traditionally-animated
Comes from: My little pony: Friendship is magic
Nationality: American
Ad blocker interference detected!
Wikia is a free-to-use site that makes money from advertising. We have a modified experience for viewers using ad blockers

Wikia is not accessible if you've made further modifications. Remove the custom ad blocker rule(s) and the page will load as expected.