Fear is a protagonist. He is voiced by Bill Hader.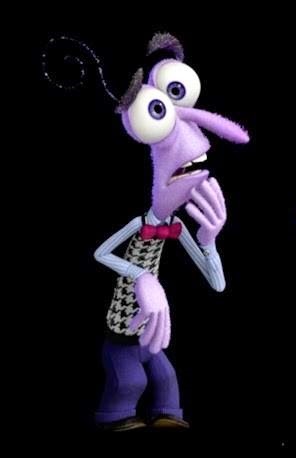 About the character
Edit
Characteristics: tall, thin, purple skin, white sweater, pink bowtie, purple eyes, purple trousers, brown shoes, handsome, friendly, cowardly, organized, protective, sometime sarcastic
Animated age: 12 animated years old
Real age: 3 real years old
Fun facts:
Profession: Assistant of a majordomo
Species: Emotion
Comes from: Inside out
Race: Computer-animated
Subrace: Positive character
Nationality: American
Religion: Christian
Relationships:
Hunter: Despite all the abuse he gets from Hunter, Fear still views his boss as a friend and always tries to support him.
Bellwether: He has a rivalry with her and just like their bosses, the two strongly dislike each other. Fear usually does not show a desire for victory towards Bellwether, but he is still annoyed by her.
Kid: Despite not interacting much with each other, Fear sees Kid as a really nice boy, who does not deserve to be insulted by Hunter.
Ad blocker interference detected!
Wikia is a free-to-use site that makes money from advertising. We have a modified experience for viewers using ad blockers

Wikia is not accessible if you've made further modifications. Remove the custom ad blocker rule(s) and the page will load as expected.