Dawn Bellwether is an antagonist. She is voiced by Jenny Slate.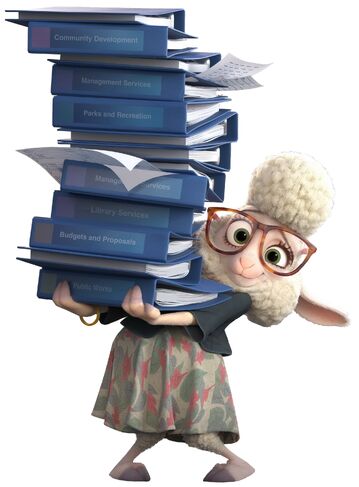 About the character
Edit
Characteristics: short, slender, green eyes, white fur (wool), glasses, blue coat, multicolor skirt, beautiful, cute, evil, intelligent, sly, ruthless, manipulative
Real age: 1 real year
Species: Sheep
Fun facts:
Her clothes are made of wool.
The term "bellwether" refers to sheep, that leads a herd.
Ironically "Dawn" means "daybreak".
Race: Computer-animated
Subrace: Antagonist
Religion: Christian
Breed: Border Leicester sheep
Nationality: American
Profession: Assistant of a majordomo
Comes from: Zootopia
Ad blocker interference detected!
Wikia is a free-to-use site that makes money from advertising. We have a modified experience for viewers using ad blockers

Wikia is not accessible if you've made further modifications. Remove the custom ad blocker rule(s) and the page will load as expected.