Cobra queen is a secondary antagonist. She is voiced by Tress MacNeille.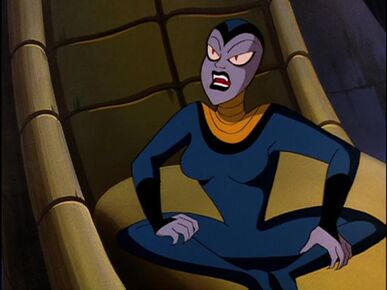 characteristics: tall, slender, red eyes, greenish skin, curvy, beautiful, evil, sadistic, easily-annoyed, vain, materialistic, cruel, comedic
real age: 21 real years
species: human-snake hybrid
profession: works in a store
nationality: American
religion: Christian
race: traditionally-animated
subrace: negative character
comes from: Freakazoid
real name: Audrey Manatee
trivia:
She has a few giant pet cobras.
She hates being compared to Sylvester the cat.
She is known for having a lisp.
She enjoys listening to the Ray Conniff singers.
Ad blocker interference detected!
Wikia is a free-to-use site that makes money from advertising. We have a modified experience for viewers using ad blockers

Wikia is not accessible if you've made further modifications. Remove the custom ad blocker rule(s) and the page will load as expected.