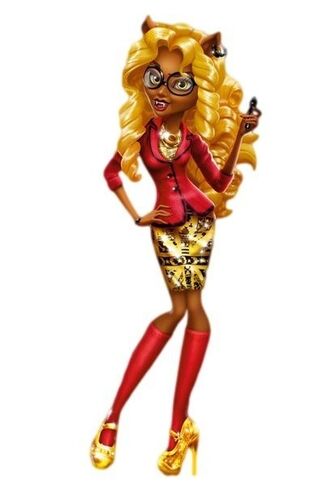 Clawdia Wolf is a protagonist. She is voiced by Jonquil Goode and has a Brooklyn accent.
She works as a writer in Movietown. Clawdia is the author of the popular fantasy book series The kingdom of the mikitacs.
About the character
Edit
Characteristics: tall, slender, red coat, yellow skirt, red socks, yellow shoes, golden necklace and black earrings, yellow eyes, black glasses, blonde hair, brown fur, beautiful, loyal, caring, intelligent, kind, polite
Animated age: 19 animated years
Real age: 3 real years
Family: Clawdeen Wolf (sister), Howleen Wolf (sister); Clawd (brother)
Profession: Writer
trivia:
She is the oldest of the Wolf siblings featured in the show.
Religion: Christian
Relationships- She has great relationships with her family and her friends.
Ad blocker interference detected!
Wikia is a free-to-use site that makes money from advertising. We have a modified experience for viewers using ad blockers

Wikia is not accessible if you've made further modifications. Remove the custom ad blocker rule(s) and the page will load as expected.