Bob Belcher is a major character. He is voiced by H. Jon Benjamin.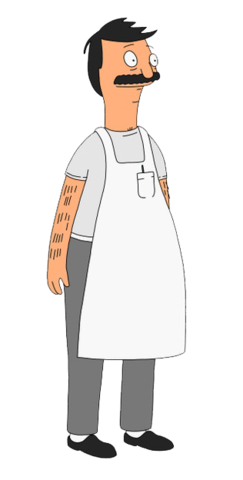 About the character
Edit
Characteristics: a little plump, black hair, black eyes, white apron, white T-shirt, grey trousers, black shoes, handsome, calm, distracted, easily-annoyed, indifferent, pragmatic
Real age: 5 real years old
Family: Linda Belcher (wife), Tina and Louise Belcher (daughters), Gene Belcher (son)
Catchphrase: "Oh, my God!"
Full name: Robert Belcher junior
Fun facts:
His name means "bright fame".
His favourite movie is Working girl.
He is also a fan of western films.
He has a habbit of talking to himself, via pretending that he is talking with inanimate objects.
Nicknames: He is often called "Bobby" by his wife.
relationships:
his wife: He has a stable relationship with his wife. They rarely fight and most of the time talk with each other rather calmly. They do have a lot of thing they disagree with, but usually it is not something serious.
his children: His children do not respect them much and he treats them in a similar way, because he never hesiates to tell them when they are not good at something. Even though he still loves them strongly.
Ad blocker interference detected!
Wikia is a free-to-use site that makes money from advertising. We have a modified experience for viewers using ad blockers

Wikia is not accessible if you've made further modifications. Remove the custom ad blocker rule(s) and the page will load as expected.