Amelia is a secondary character. She is voiced by Emma Thompson and has a British accent.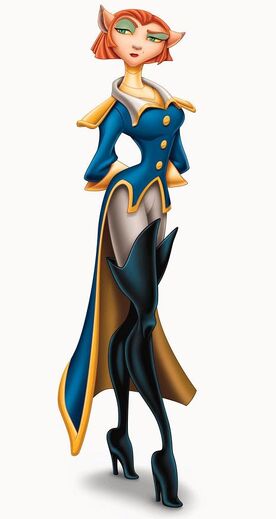 Characteristics: Tall, slender, curvy, ginger hair, green eyes, beautiful, athletic, strict, posh, polite, wisecracking, sarcastic, kind, justice, selfless, fearless
Animated age: 35 toon years
Real age: 15 years old
Species: Cat-like alien
Relations: Dr. Delbert Doppler (husband), Amelia and Doppler's children
Profession: Employee in a touristic company
Comes from: Treasure planet
Race: Traditionally-animated
Subrace: Positve character
Nationality: American
Religion: Christian
Trivia:
She is based on the character pf captain Alexander Smollet from the original book "Treasure island".
She is voiced by the same actress as queen Elinor.
Her hobby is drinking tea and eating cakes in her free time.
Ad blocker interference detected!
Wikia is a free-to-use site that makes money from advertising. We have a modified experience for viewers using ad blockers

Wikia is not accessible if you've made further modifications. Remove the custom ad blocker rule(s) and the page will load as expected.